Quick Updates: Sunday January 25, 2015 10:25am (Auburn, CA)
Look for a confirmed 2015 schedule in the coming weeks
---
---
---
2015 Race Stats
Car #/Motor
Starts
Fast Times
A Main Wins
A Main Top 5's
A Main Top 10's
B Main Wins

Heat Wins

`

Dash Wins

Rain Outs
92 - 410
0
0
0
0
0
0
0
0
92 - 360
0
0
0
0
0
0
0
0
01 - ASCS 360
0
0
0
0
0
0
0
0
7c - ASCS 360
0
0
0
0
0
0
0
0

01 - 410

0

0

0

0

0

0

0

0

01 - Non-wing
0
0
0
0
0
0
0
0
Totals
0
0
0
0
0
0
0
0
Latest Update:
1/29/2015
©Boozrcn
---
The MAXIM add on Hoseheads. 8/16/12
---
Andy makes the Charlotte Motor Speedway Ticket Add on Hoseheads
The picture is from the 2011 Mini Gold Cup, Silver Dollar Speedway in Chico, CA.
From Left to right: Evan Suggs, Lucas Wolf, Donny Schatz and Andy.
Not sure why but here it is. April and May 2012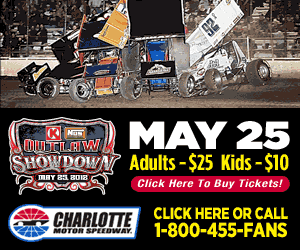 Picture From the April 30, 2011 Civil War Race at Placerville Speedway
Believe it or not, Andy was able to drive out of this and the wing never hit the ground. He headed to the pit work area where the crew changed out the left rear tire that was damaged in the incident. He came back out and finish fifth in this heat race. Awesome shot by Steve, check out the rest of his work on his website stevesracingphotos.com
---
The clip below is the Forsberg #92 run what Ya Brung event in Petaluma that Andy opted to start at the rear of the field of so as to not upset anyone do to the fact he was so much faster then the rest of the field.
Run What Ya Brung Wingless 360 Sprint Cars 2010
Highlights from September 3rd's open 360 sprint car show from Petaluma Speedway. Highlights include several incidents before the main event and main event highlights. All of the drivers involved were uninjured. Brought to you by surfnsprint.com.